E-Safety
Technology is a fundamental part of our everyday lives. It impacts upon the way we work, teach, learn and play. At St Edburg's Primary school we recognise that using technology can be exciting, innovative and fun, but that it can also expose us to risks and dangers. We are committed to educating our children about how to keep safe online wherever and whenever they are using technology. We believe it is very important to give E-Safety a high profile and to ensure that anyone that uses any of our technology systems, remain safe and in control.
E-Safety is explicitly taught throughout both Key Stages using differentiated and engaging sequences of lessons; we regularly use Think U Know resources which can be accessed at home also and has some useful tips for parents. We have assemblies throughout the year that have an E-Safety focus and an E-Safety Day annually. Our E-Safety and Acceptable Use Policies are robust, regularly reviewed and updated.
At the start of each school year each class will discuss and compile a pupil E-Safety agreement. They are displayed in the classrooms and pupils sign it to show that they agree to follow it. A copy is also sent home to parents so that it can be discussed at home too.
Click here to connect to Childline
To SPEAK OUT about an E-Safety concern, worry, abuse or cyberbullying
click on the SPEAK OUT logo below.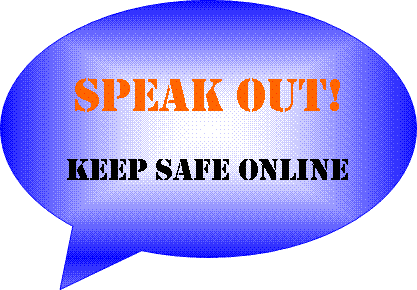 Useful websites for Parents
www.saferinternet.org.uk/parents - Range of resources for parents for keeping children safe online.
www.saferinternet.org.uk/parental-controls - Video tutorials on how to download and use the parental controls available from BT, Sky, Talk Talk and Virgin Media.
www.saferinternet.org.uk/safety-tools - Information and advice on the safety tools, age requirements etc. for a variety of online services popular with children and young people.
www.childnet.com - resources for children, parents and teachers relating to E-Safety.
www.childnet.com/online-gaming - Childnet's guide contains helpful advice and info on supporting children playing games online.
www.childnet.com/downloading - guide on how to stay safe and legal when downloading music, films etc.
www.childnet.com/sns - help for parents to understand how children use social networking space
www.internetmatters.org/advice/ - various E-Safety advice topics
www.thinkuknow.co.uk - site for children and parents range of activities for children and advice topics for parents