Eco Schools Accreditation
We have Good News to share!
We are proud to be working towards our Eco-Schools Green Flag Accreditation. We have achieved our Bronze Eco- Schools Award! Our Eco Warriors along with children and adults across the school have been working hard to improve our school environment.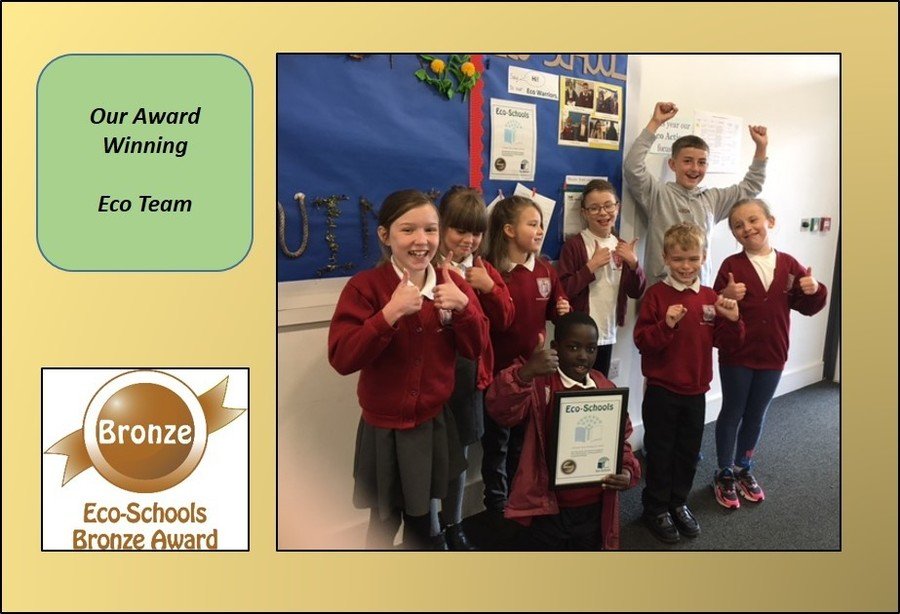 Our Eco Warrior Team, made up of 8 children from our Key Stage 2 classes, have been following the seven step process in order to achieve the bronze award.
The Warriors have volunteered to take part and have regular meetings where they discuss and share ideas. After conducted an Environmental Review around our school - looking at a huge range of topics including Biodiversity, Healthy Living, Global Citizenship and Transport - the Warriors have come up with ways in which they can improve on what we already do. The team have written letters to senior staff in school to ask for help and have engaged classes right across the school to get involved in achieving change.
As a result birds and bugs and bees can have more plants to enjoy and make a home! We have a large area in school for planting in raised beds, trees around the school field and areas set aside for wildflowers to encourage nature to flourish.
Classes have been learning about our local community and the wildlife that exists all around us if you look. Bird feeders and bug hotels have appeared all over school and children are seeing them in use everyday.
The team are now working towards their Silver Award with the help of Miss Lindqvist
We know how important it is to take care of Planet Earth and we're proud of our achievement so far!