Prayer Spaces
We have 2 or 3 'Prayer Spaces' every year. We put up gazebos in The Round and transform it into a special space. It is a place where we can be quiet and think about the important aspects of a story with a Christian message.
To see the latest Prayer Space photos click here
The Servant Queen and the King She Serves
A Prayer Space
June 8th – 13th June 2016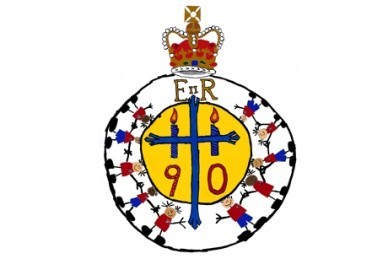 My favourite part of the prayer room was how big it is and how quiet and peaceful it was.
It was a very calm place and soft. I felt happy and peaceful.
I felt calm and peaceful and relaxed. I liked making the flags.
Calm. Alright. Safe.
Time to reflect back on saying sorry. Time to say your thoughts. Calm and quiet.
During the week of 8th – 13th June 2016 there was a whole school learning focus on the Queen's 90th birthday. There were many activities including the FS Film of The Queen's Knickers, a live link up to the Windsor Tea Party and an art display at County Hall made from postage stamps.
We also wanted to give time to reflect on the Queen's faith – something that she frequently refers to in speeches. We focused on the main elements of service, justice and mercy – all of which she promised to do and to show in the coronation promises of 1953. We set up a Prayer Space in the 'Royal Round' and this was used by all children, parents and a special Faith Day for year 6's from partner CE schools.
In the Prayer Space there was opportunity to think more deeply about how we serve others in our daily lives, how we serve others who we may never meet – our world neighbours. There was also opportunity to think about the importance of the Bible to us – the Queen was given a Bible at the Coronation and told that it was the most precious gift that would be given.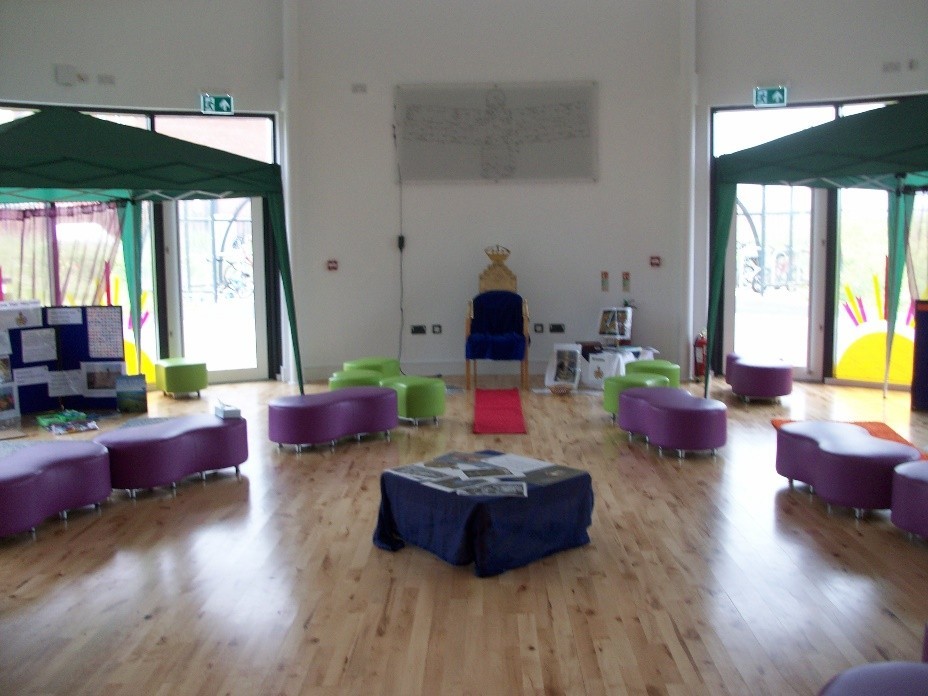 The school used it's unique 'Round' space to create a reflective space with 5 'stations'.
Music from Handel's 'Zadok the Priest' played as each group entered the room.You can see the royal 'throne' and the red carpet!
The Welcome Space
As visitors entered the space, they were greeted with music from Handel – "Zadok the Priest and Nathan the prophet anointed Solomon King." This music is significant because it was played at the most holy and solemn moments in the Coronation – the anointing.
The children were given an introduction and welcome to the Prayer Space and looked at some important Coronation artefacts including the Crown, the Orb and the sceptre.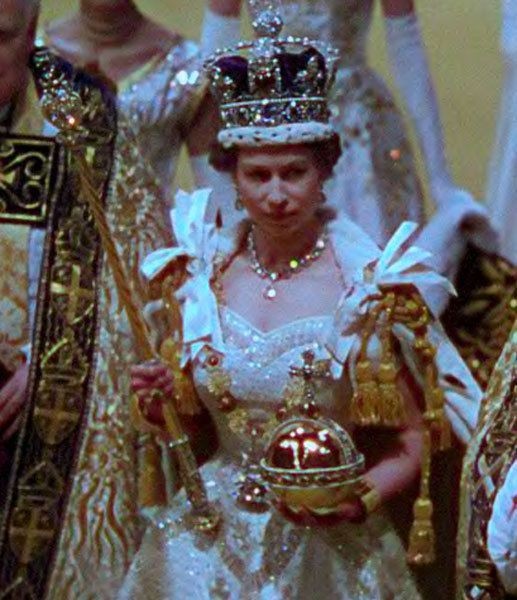 The Queen's Coronation in 1952 was the most watched event in the history of television at the time.
The ceremony was full of grandeur, of soaring music and stunning robes.
But it was also most important because Elizabeth was promising to serve her people as a servant of God.
Symbols of the Coronation included the orb, sceptres and crown.
The Orb represents the earth , and the cross at the top symbolises the rule of Jesus over the earth.
The Queen was given 2 sceptres – one with a cross and one with a dove. What might these mean?
The Queen was also given a Bible, described as the most valuable thing in the world. Why might the Bible be more valuable than the precious jewels of the coronation?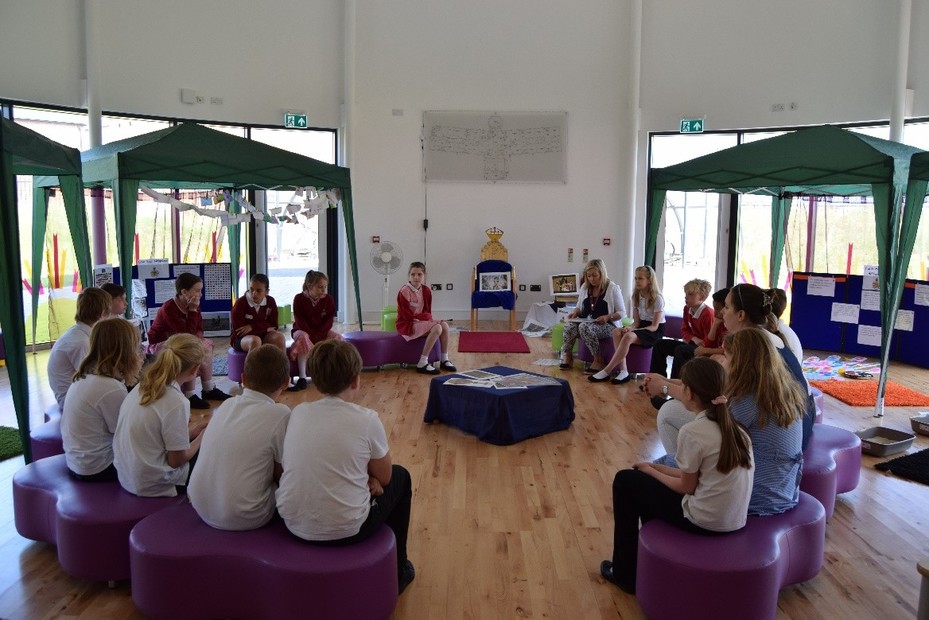 Serving Others
At this station the children were reflecting on how the Queen serves others.
There were photos of the anointing – the holiest part of the ceremony and the only part not to be filmed. This was a sign that she was being set apart to serve her people and love her people in all her actions, with all her heart and mind.
The children looked at photos of the Queen at work including reading government papers in the famous red box.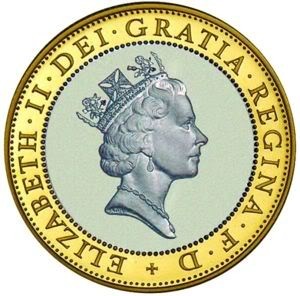 Jesus' life thus began in a stable, but even though he was not rich, he had an amazing influence over others.
You don't have to be rich or powerful in order to change things for the better, and each of us in our own way can make a contribution. ( Queen's Christmas message 1986)
The Queen's head is on every coin. The smallest coin, 1p, doesn't buy anything! But each penny can make a difference. We don't have to be rich to make a difference!
Spend a few minutes thinking of ways that you can serve others. On the coin write a promise of service – how will you serve your family or your friends or your school today?
" I will never be mean to Caleb"
"I promise to help others if they get stuck"
"I promise to always be kind and helpful. To respect other and their differences."
"I promise to be nicer to my sister."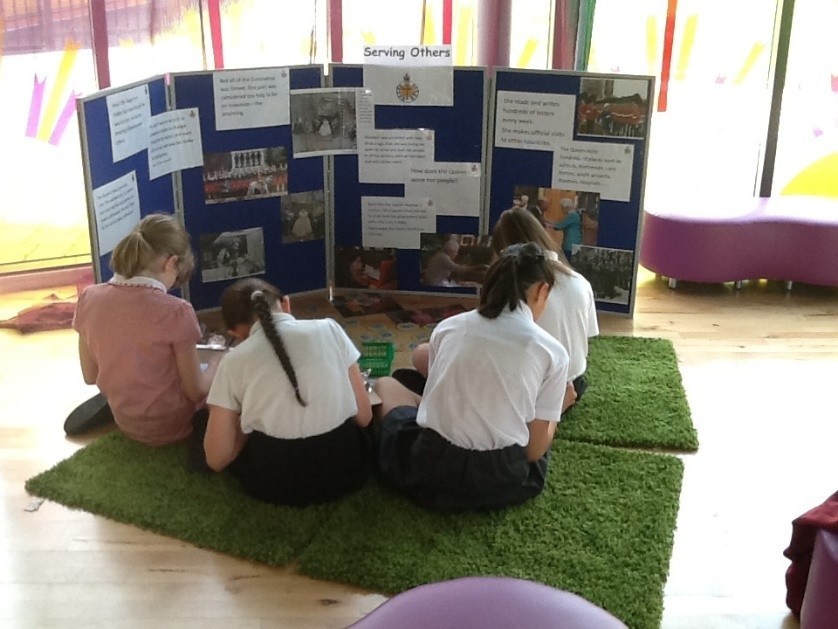 Love Your Neighbour
"Jesus showed us that what people are and what they do, does matter and does make a difference. He commanded us to love our neighbours as we love ourselves.
We are all different but each of us can offer our best. If we do this, then it will be good for our neighbours" 1975 Christmas broadcast
At this station the children considered this message from the Queen's Christmas broadcast of 1975 and the story of the Good Samaritan. Jesus said that our neighbours are all people – not just the people we know but even those we don't know. Anyone – no matter what their religion or nationality – can be our neighbour.
The children had time to look at countries in atlases and maps. There were pictures of areas in the world where there is conflict and poverty. Children made flags from all nations to hang up and given opportunity to pray for different areas of the world.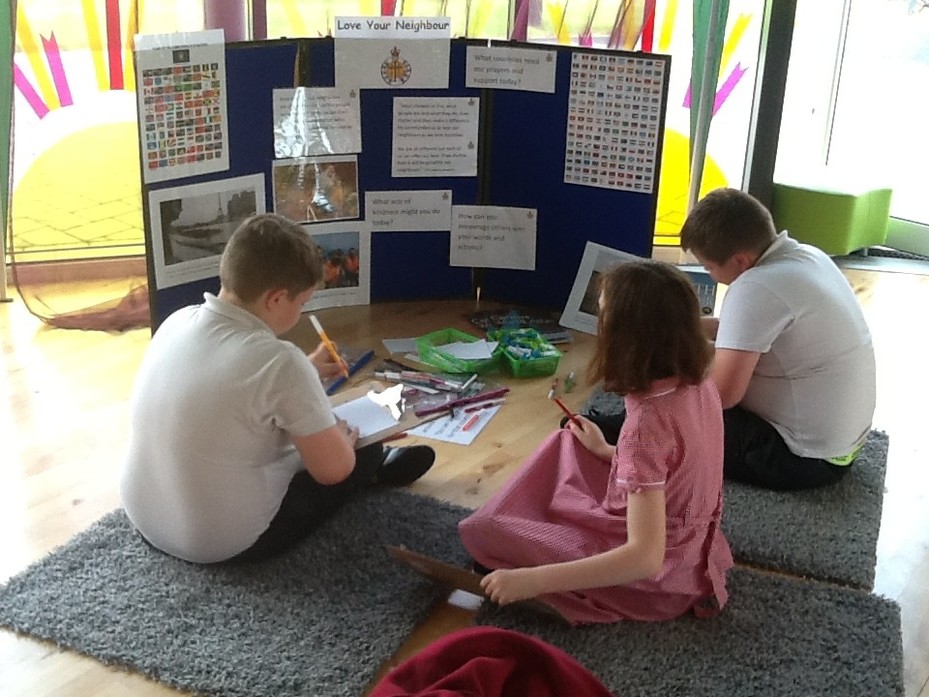 What acts of kindness might you do today?

How can you encourage others with your words and actions?
What countries need our prayers and support today?
Faith makes a difference
"I know just how much I rely on my faith to guide me through the good times and the bad. Each day is a new beginning. I know that the only way to live my life is to try and do what is right, to take the long view, to give of my best in all that the day brings, and to put my trust in God....I draw strength from the message of hope in the Christian gospel." 2002
" We can surely be grateful that, 2000 years after the birth of Jesus, so many of us are able to draw inspiration from his life and message, and to find in him a source of strength and courage." 2008
The children considered the messages expressing faith from the Queen's Christmas broadcasts.
They considered what values and beliefs are important to them.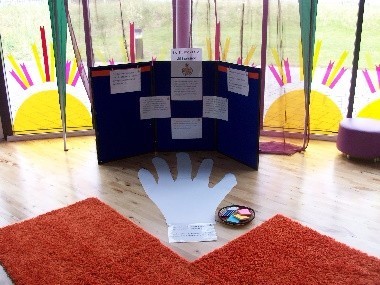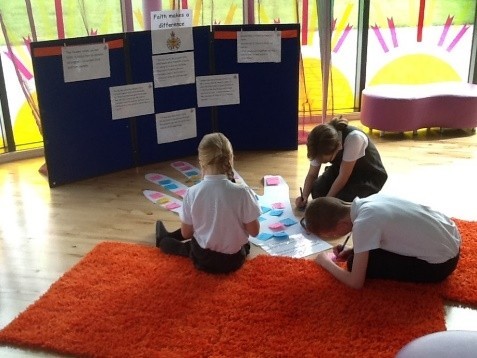 The Queen asked the people of the United Kingdom and Commonwealth to: "Pray that God may give me wisdom and strength to carry out the solemn promises I shall be making, and that I may faithfully serve him and you, all the days of my life."
The Queen relies on her faith. It helps her to remain strong as she serves God and her people.
Sometimes it's hard to keep our faith. Sometimes it's hard to keep our values. What values are important to you – which ones to you want to remember?
Sometimes we write things on our hand to remember them! Write what is important to you on a post-it and place it on this hand.
There were lots and lots of prayers for family and friends on the giant hand!
Justice and Mercy
The Queen has worked hard for peace and reconciliation all her life, particularly the work to encourage strong relationships within the Commonwealth countries.
"Forgiveness lies at the heart of the Christian faith. It can heal broken families, it can restore friendships and it can reconcile divided communities. It is in forgiveness that we feel the power of God's love." Christmas message 2011
"Mighty things from small beginnings grow as indeed they grew from the small child of Bethlehem." 1976
At this station the children considered acts of forgiveness as part of working for peace and reconciliation. They thought about situations where people are affected by acts of war. They considered where there might be areas of their own lives where peace was needed.
A huge paper dove was on the floor as a sign of peace and children cut out hand prints to make into feathers thinking about working for peace.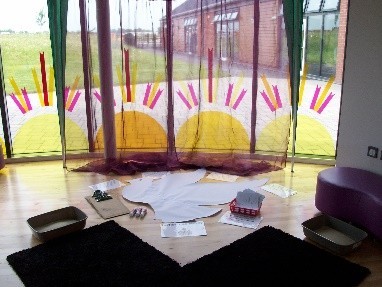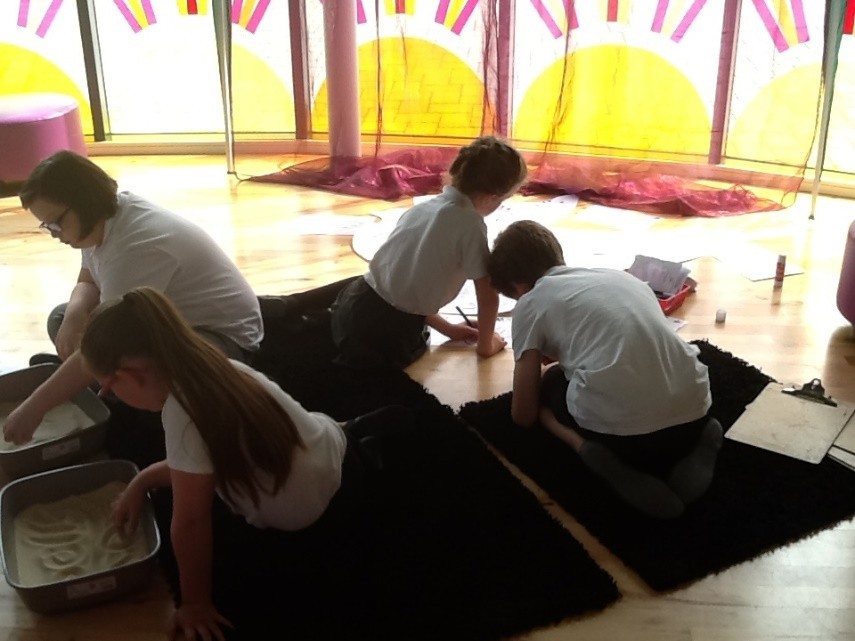 Sorry prayers included
"I'm sorry to my brother for being annoying."
Sorry for saying I'm not your friend
Sorry to mum for arguing back at you.
Wisdom
At the coronation, the Queen was presented with a Bible. Even though she was holding millions of pounds worth of jewels, the Queen was given something even more precious – something that is the most valuable thing in the world – the Bible.
What Bible story do you like the most?
Is there a verse that encourages you or helps you?
Choose a Bible verse to take away from here.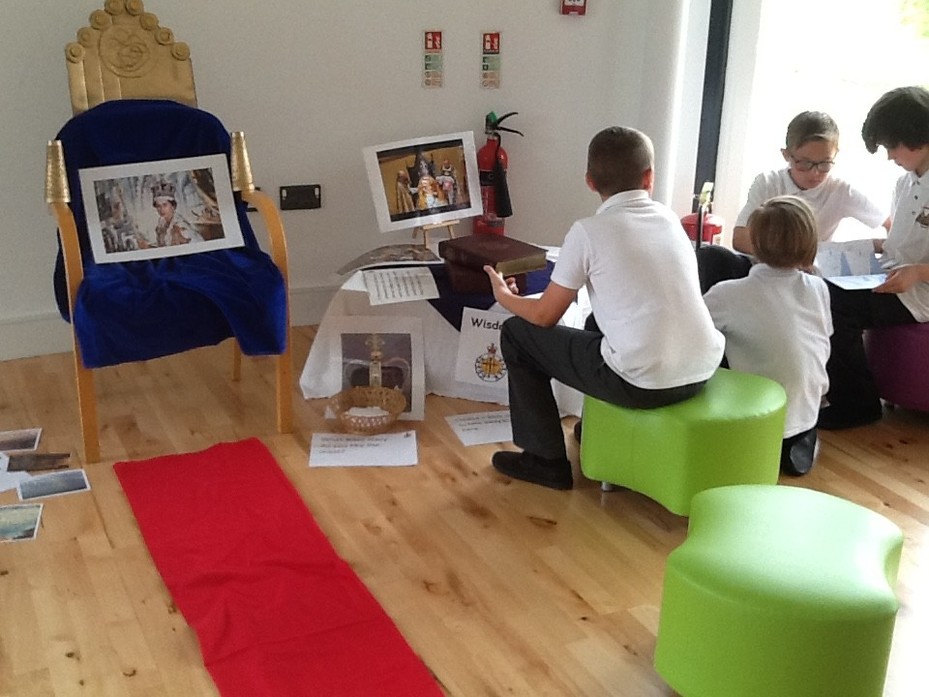 Vision Learning
Year 6 Faith Day – Thursday 9th June
Chesterton CE and Launton CE joined our year 6's for a special day together.
The day started with an act of Worship led by Verena Breed. This introduced the children to the theme of the day – how the Queen has kept her Coronation promises to Serve her people and God. Next time it would be even better if the children were more involved in leading this and we can add this to the evaluation.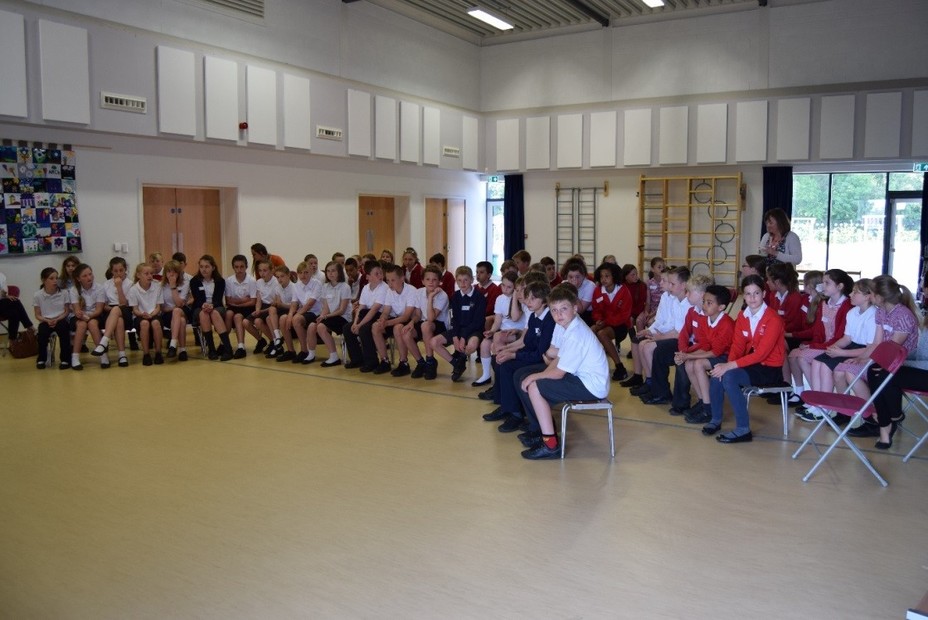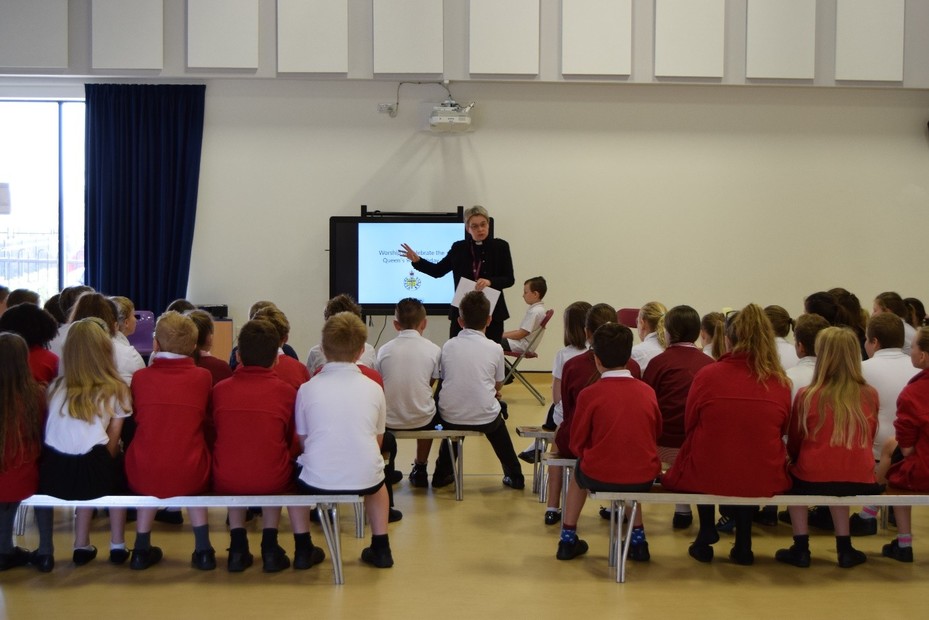 One of the activities was to decorate cakes for the 'Tea Party' at the end of the day! Lots of fun with icing and themed sprnkles!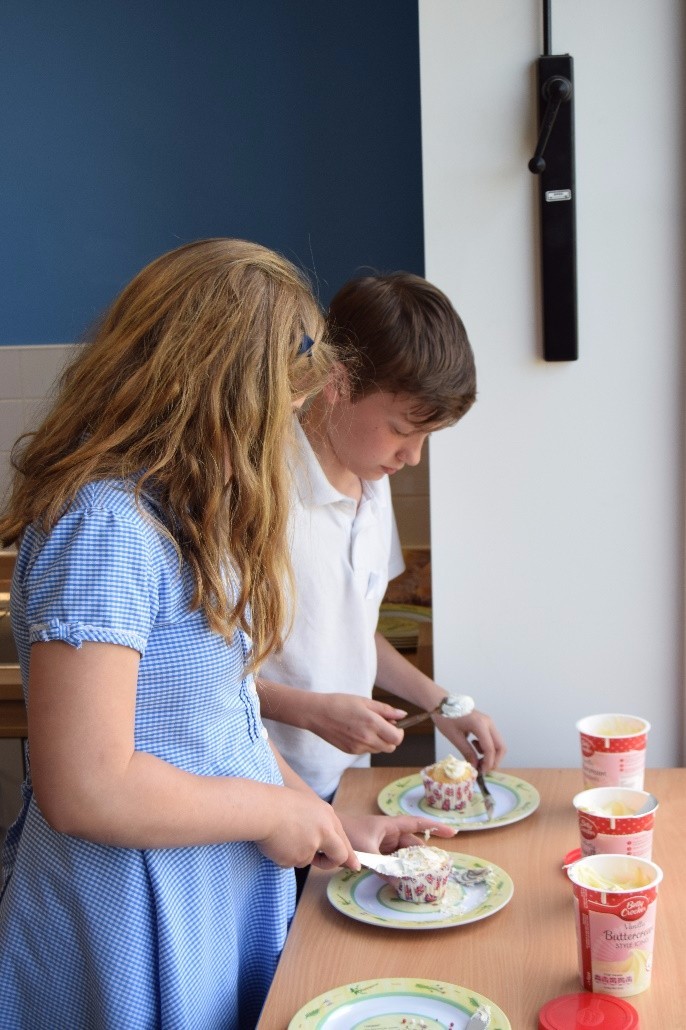 All of the activities gave opportunity for children from different schools to work together, to share ideas and thoughts. For some children, it was their first experience of a Prayer Space like this.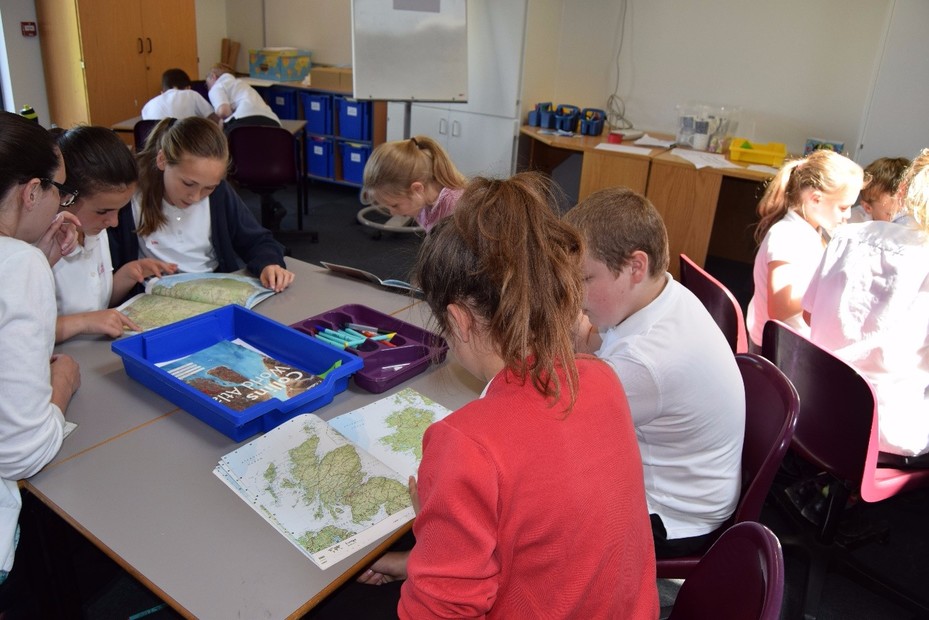 In this 'Hands On' activity the children were discussing the Refugee Crisis in Syria. The Queen often refers to the story of the Good Samaritan and the children thought about situations where innocent people are caught in conflicts causing them to do desperate things and take huge risks. Here they are working together to find Syria and work out the journey that some refugees might take. Later they worked on bunting for a stall at the Churches Together Support Refugee stall that would be part of the Bicester Big Lunch Celebration on the following Sunday.
Responding to the Flooding in West Yorkshire
Over the Christmas holidays, whilst we were moving in to a beautiful new building, there was terrible flooding in parts of West Yorkshire. We found out about what was happening to Burnley Road Academy School. We learned that terrible flooding had damaged their school so badly that they could not return to the school. All the children in key stage 1 are going to one school and key stage 2 children are going to another school 5 miles away. We thought about how they might be feeling and we know that they must be very sad and upset. So we decided to follow the advice of a famous Christian preacher called John Wesley. He said this:
"Do all the good you can. By all the means you can. In all the ways you can. In all the places you can. At all the times you can. To all the people you can. As long as ever you can."
We knew that we couldn't do much to help because we are too far away. But we could send our love and we remembered the children and staff in prayer times. We also decided to send little gifts with words of encouragement to show that we cared. These messages were written on chocolate bars which will be sent to the children at their temporary schools. We also made them a rainbow card as a reminder that there is hope and that good things will come again.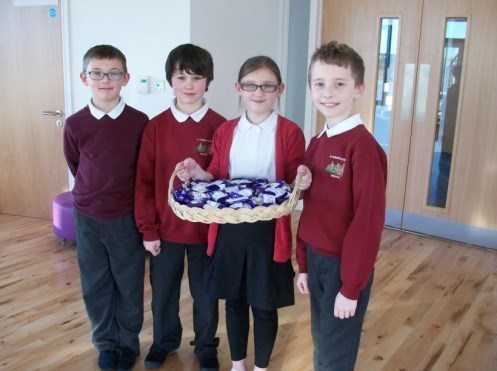 The photos below are of Hebden Bridge and the school after the floods on Boxing Day. What an awful mess. We noticed that their school looked a bit like our old Victorian school building and it reminded us of how lucky we are to have a wonderful new building. We will pray for the children and staff of Burnley Road Academy school and hope that things get sorted out very soon.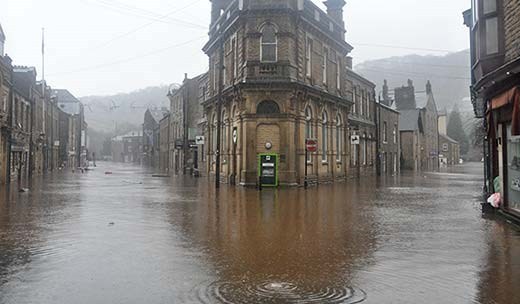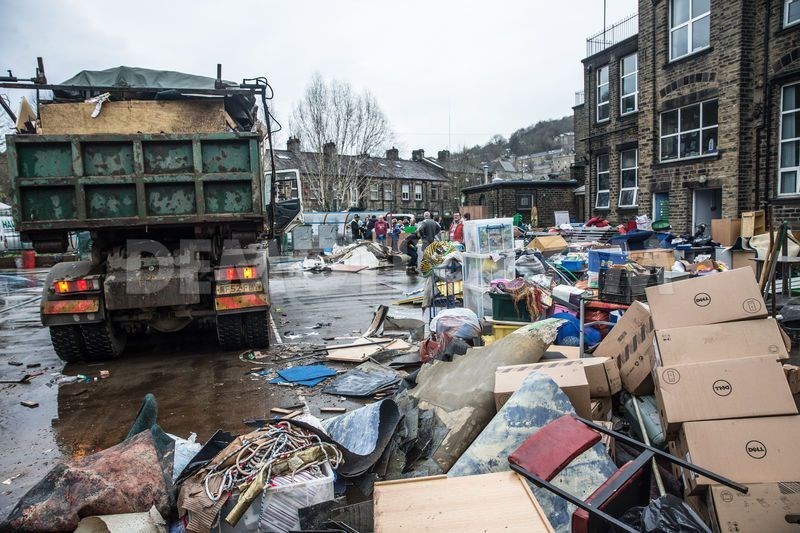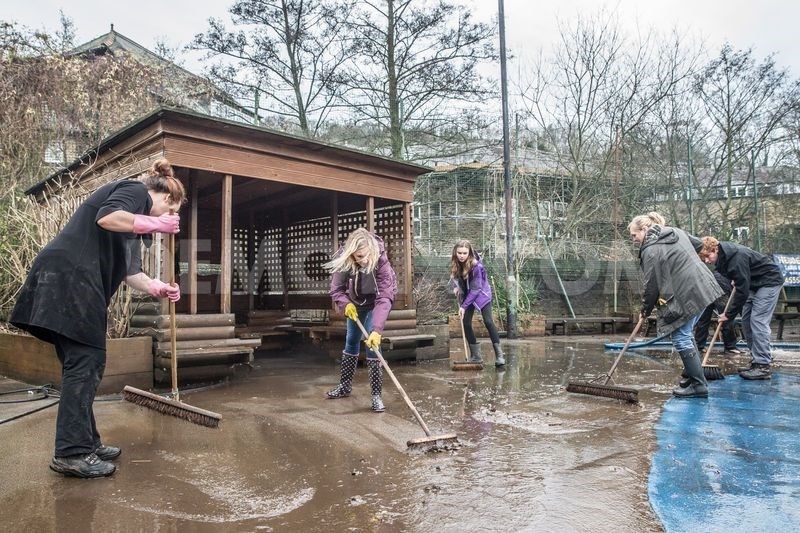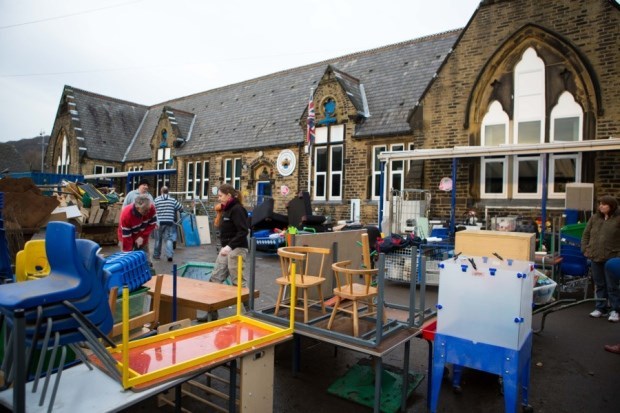 EASTER PRAYER WALK 2015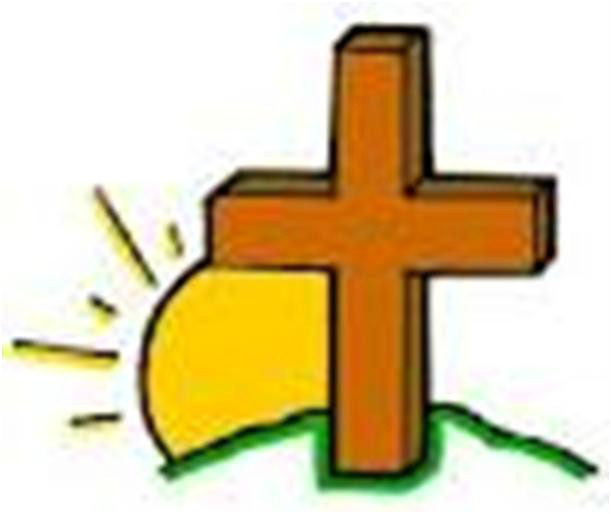 A Journey for Easter
The Easter story is complicated and has many messages for us to think about. We give ourselves time to explore the themes on a journey around the church. There are 8 stopping places – or stations – and each one tells us something of the story of Easter.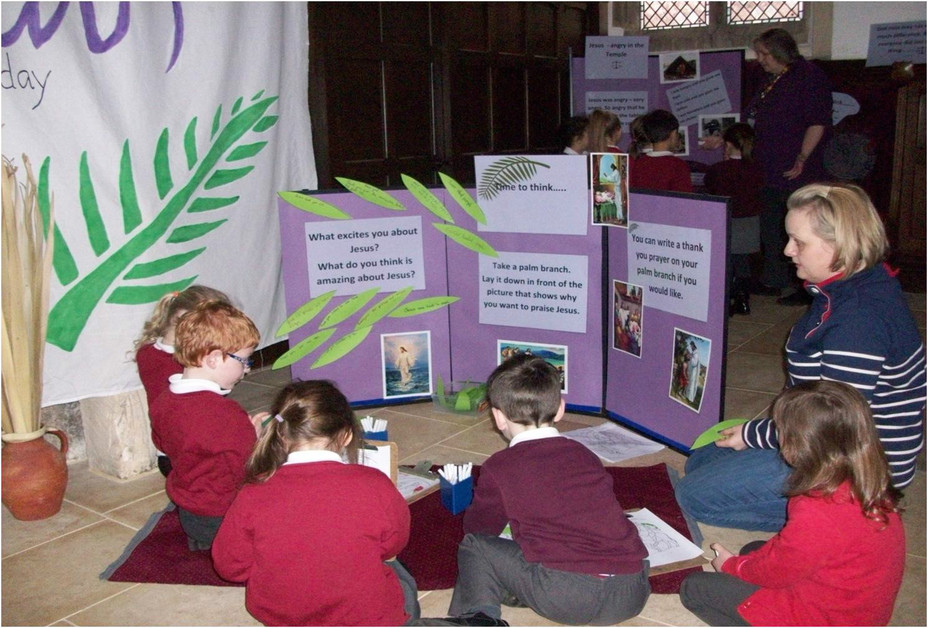 On Palm Sunday Jesus rode into Jerusalem and was cheered by the crowds. We wrote 'thank you's' and praise messages on palm leaves.
It was a confusing night – the last night of Jesus' life. Some people made choices that night that were hard and that they regretted. Judas decided to betray Jesus. Peter chose to deny that he was Peter's friend. Pilate decided to hand Jesus over to the shouting crowd.
Sometimes it's hard to make the right decision. We traced round these mazes as we thought about times we have to make difficult decisions.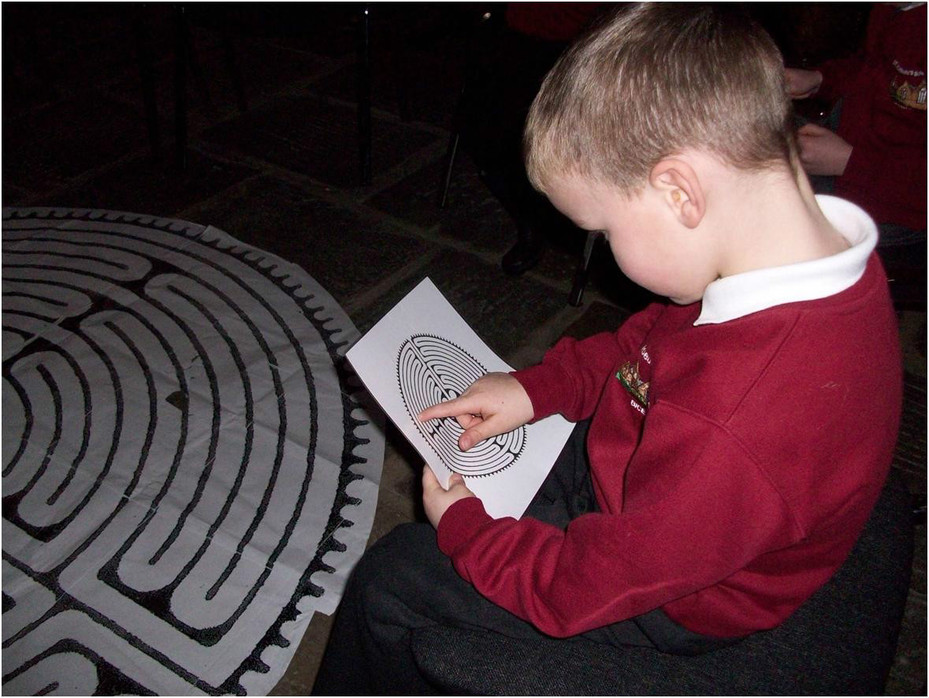 Our school prayer reminds us that we we need God's Wisdom to help us in our decisions, Lord, make us wise in all we say and do.
Our school motto is, "Dare to be Wise!"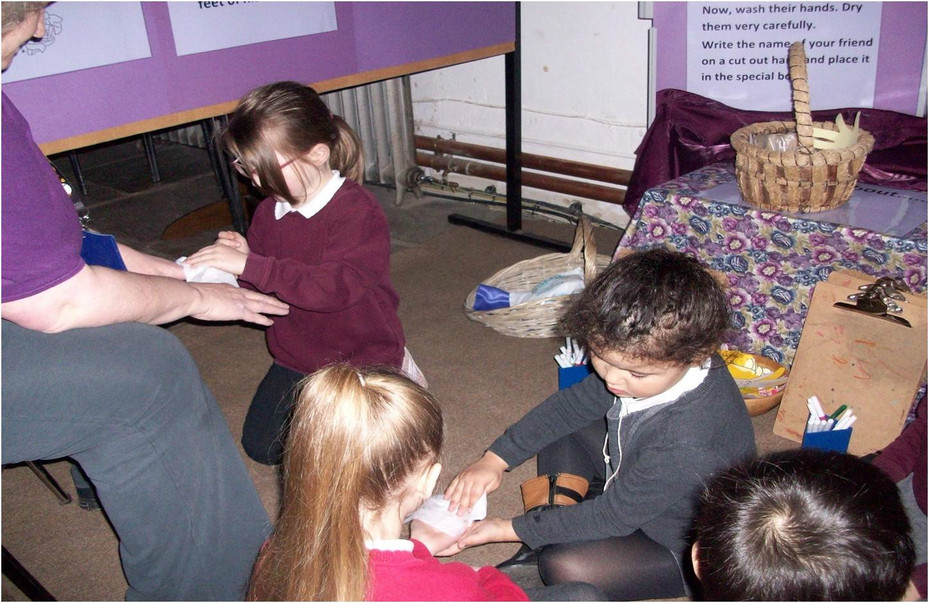 At the Last Supper, Jesus washed the feet of his disciples. He did this to show his love and care.
We washed a friend's hands and then wrote special prayers and messages for them on hand prints.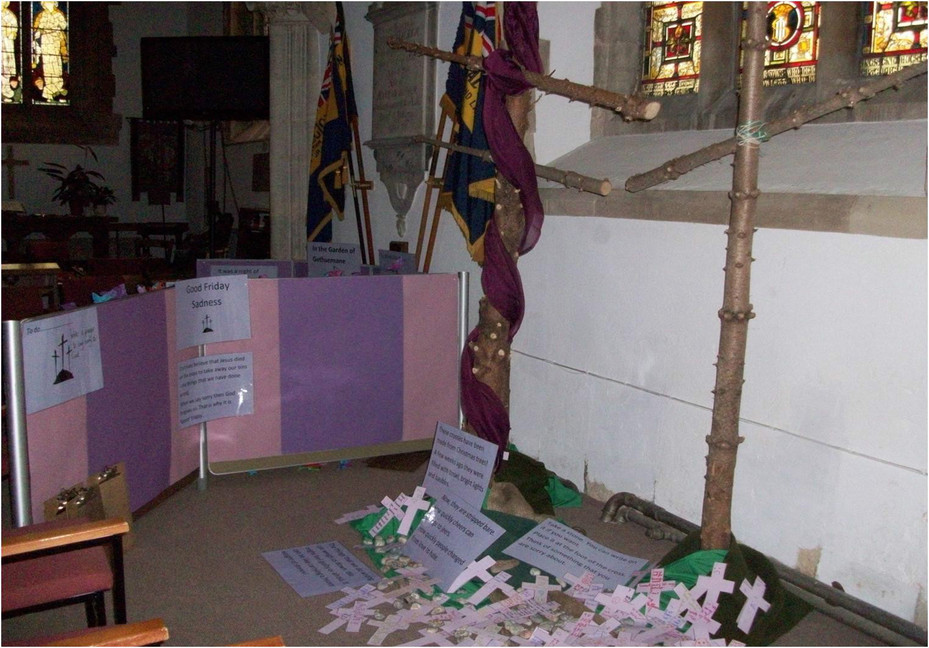 We used the stripped branches of last year's Christmas trees to make 3 crosses.
Strange to think that just a few months ago these were filled with tinsel and baubles. And now they are the Good Friday crosses.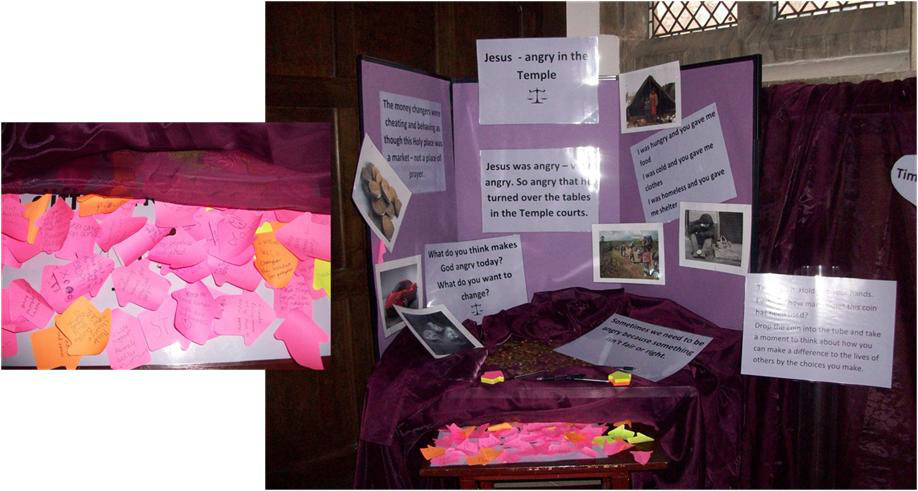 Jesus was angry with the Temple priests who had let the Temple become like a market place. They were charging high prices for the offerings.
Jesus knew that this wasn't fair or right. What things are not fair today? We thought about Fair Trade and how we can make a difference.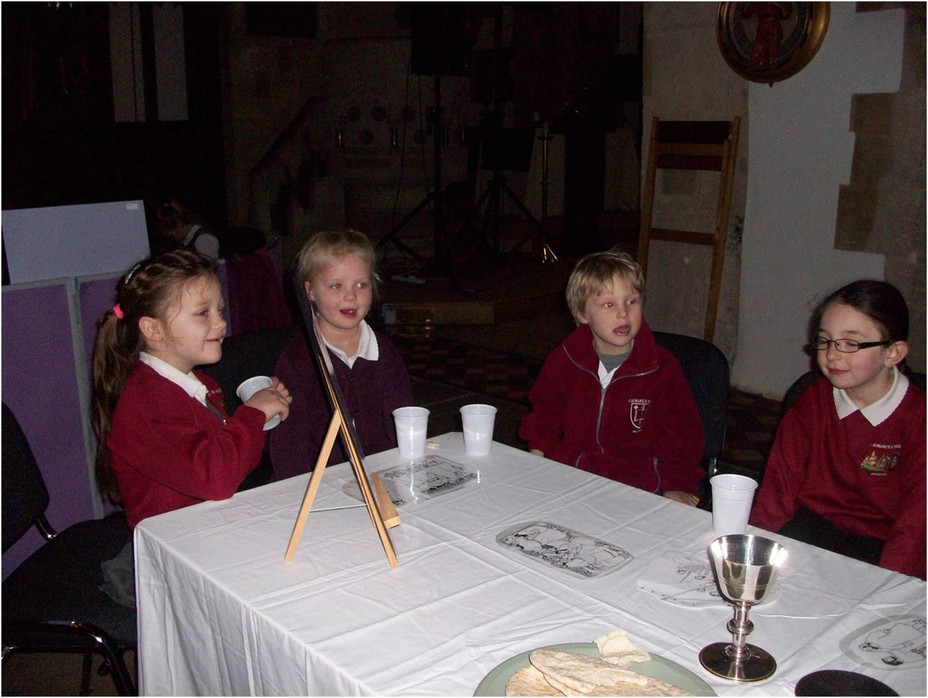 "Do this and remember me." We ate bread and drank 'wine' like the disciples at the Last Supper
and spent time remembering some of the amazing things about Jesus!